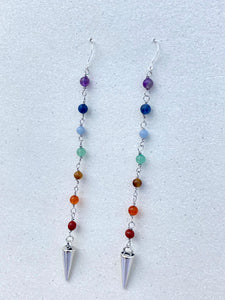 Rainbow Chakra Gemstone Silver Dangle Earrings
Regular price
$48.00
$0.00
Unit price
per
Wear proudly and let your love shine bright in these rainbow chakra earrings.
This line of Rainbow Chakra jewelry is multi-purpose in nature:
Each stone corresponds with one of the 7 chakras and

represents spiritual wellness, harmony, and balance.

A portion of the sales from this collection will be donated to the

Campaign for Southern Equality

, an incredible organization providing critical care and resources to LGBTQ people in the south.

The affirmation for this collection is:

I am one with the universal flow of love.

The energy behind this connects one to the divine essence of love that permeates all that is. May we remember we are all connected.
These stainless steel earrings are infused with loving and healing energy channeled from Light Language to help you connect to the source of divine love that lives within all of us. When you wear energy healing jewelry, you can: 
Feel the blissful and loving energy as you move about your day. 

Meditate with it to connect deeper to your Higher Self and divine source. 

Be open to the energies and ask your higher guidance to receive the information and use it for your best and highest good. 
Each stone represents one of the primary 7 chakras.
Red jasper (root chakra) - helps bring problems to light and has powerful protective properties.
Carnelian/Red Agate (sacral chakra) - promotes passion and creativity. Increases motivation and stimulates action.
Yellow Tiger Eye (solar chakra) - boosts ambition and heightens intellect. Promotes focus and action.
Green Aventurine (heart chakra) - promotes peace, love, new friendships, and emotional well-being.
Angelite (crown chakra) - attunes one to spiritual realm, increases sense of intuition. A powerful stone for healers, providing protection.
Sodalite (throat chakra) - promotes truth, integrity, communication, and emotional balance.
Amethyst (third eye chakra) - enhances spiritual awareness and intuition.
All jewelry is handcrafted and placed on a jewelry card with a detachable affirmation. 
Whenever you wear your jewelry, you'll be reminded of this affirmation, "

I am one with the universal flow of love.

" May you carry these words in your heart and may it allow you to feel peace and love for yourself and others.
For more about Light Language, please see 'About Light Language'. For tips on caring for your energy infused jewelry, please see 'FAQs'.
Features:
Length: 4.5 inches

Infused with healing energy channeled by Light Language

Detachable affirmation card from jewelry card
Materials:
Nickel free, stainless steel wire

Nickel free, silver plated brass ear wires

Nickel free, pewter spikes

Gemstone beads: red jasper, carnelian, tigers eye, green aventurine, angelite, sodalite, amethyst.
---
Share this Product
---